Minutes of the Link AGM – 23rd October 2021
 Richard welcomed us to the first proper meeting since January 2020. We were particularly pleased that Bill and Eileen Evans, as well as the Mayor, Cllr James Bacon, and Cllr Nigel Sinden could be with us. Richard also welcomed our friends Yvette, Alfred and Tunde, who came down to represent the Hastings Sierra Leone (UK) Association.
James made a presentation to Bill, on behalf of both the Link and the Borough Council,  to mark his retirement as our Membership Secretary after 18 years: an International Friendship Medal, a splendid Sierra Leonean shirt and a plaque carved by young men from Hastings SL. With his usual modesty and good humour, Bill looked back over his years of working and fundraising for the Link.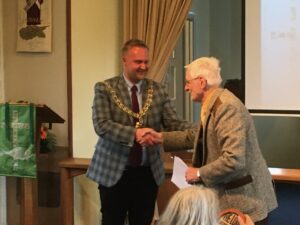 The AGM proper:
Apologies for absence: Yvonne and Jacqui.
Chairman's Report. [For Richard's full report, click hereAGM 2021 Chairman's Report]. Richard described the last, and hugely successful, visit to Hastings in February 2020, when Isabel, Mandy and the large contingent of teachers worked in the schools; Christine worked in the Health Centre; David worked on the Seeds project, and networked with a view to setting up the School Farms project; and Richard himself updated his knowledge of the sanitation situation in 13 schools. We are grateful to Christine, Yvette and Yvonne for building bridges with the Headman.
Lockdown has made fundraising difficult. Fortunately, generous donations from Kiley's Karpets, St Helen's Church and COGS, among others, have enabled us to give the go-ahead to Phase 2 of the Triage & Isolation units, and to supply modest funds for the School Farms project. The Hastings Sierra Leone Association (UK) has been working with the local association on the Twin Towns Centre.
Zoom has been a blessing: the Trustees have been able to meet regularly and make decisions. We have produced newsletters to keep Friends of the Link aware of all that was happening in Hastings SL. Richard thanked the Trustees for  their efforts and expertise over the months.
Treasurer's Report. Martin presented the figures for 2020. At the end of that year, our balance looked very healthy; but lack of fundraising in 2020 and 2021, and the need to provide funds for the various Health Centre improvements (TB/HIV unit, and then the Triage & Isolation units) mean that we have only about £11,500 left in the kitty. Hence the urgent need for fundraising now.
Schools Report. Isabel reported in the form of a Powerpoint presentation. [Click here to see it in full.AGM Schools presentation 2021 ]  Isabel pointed out that the teacher training sessions during the February 2020 visit were joint activities, with teachers from both towns sharing ideas and good practice. Jo James of Edest School is particularly committed to the 'zero waste' scheme and has managed to get 2 recycling/ waste bins (themselves recycled!)  into every classroom in all the schools.
Cllr James Bacon offered to invite the IPC students to visit him at the Town Hall. Roger reported that we have no secondary school in the scheme since the Brighton Academy withdrew its schools without notice. He is trying to interest the Ark group, so far with no response, though this may not have been the best timing.
Christine reported that children attending A&E speak enthusiastically of their schools' involvement. It is clear that ours is a genuinely two-way exchange of ideas and experiences.
At this point, Yvette spoke about improvements being made at the Twin Towns Centre. Two churches are using part of the building for meetings.  Some under-used rooms are being re-vamped and put to a new purpose. The water-tower is to be moved, and its present site will be converted to a children's play area.VIDEO-2021-10-23-12-49-18-1
Some of the grounds within the TTC's walls are being used temporarily to grow crops. VIDEO-2021-10-23-12-49-31-1  A fire-escape is to be built to give safe exit from the first-floor accommodation. This is being funded from money raised by the UK Association's Jamboree: over £5,000. The Hastings SL group is being asked to contribute. They are currently deciding on a contractor and expect work to start in 2 weeks. Yvette thanked  the Link for its continued support.
School Farms Project and Livelihoods. Isabel gave a Powerpoint presentation on the School Farms Project that David is leading on. As we had hoped, what started as 'school gardens' is becoming a community wide initiative with serious possibilities for livelihoods. [Click here to see the presentation in full.David's & Isabel's School Farms presentation For David's detailed report, click here: David's School Farms Report for AGM ]
Isabel expressed huge satisfaction at the success of the project. It has been amazing how much the schools are achieving on a quite modest financial input from us. There is great enthusiasm, abundant crops are being produced and the harvest is put to good use. The whole scheme has been put on a sound footing, with the schools signing up to its objectives: sustainability, building agricultural skills and involving the local community. We are very grateful to Mrs Jeitta Kanneh for her tireless work in organising the project with support from Francis Mason. Thanks to Zoom, Isabel and David are able to meet with Jeitta and others frequently to discuss progress. It has been found that tomatoes will continue to flourish through the dry season up to Christmas, and cassava all the way through the dry season. REC Hastings has built a greenhouse. Others have organised irrigation. Kossoh Town School is growing rice, and Edest School is raising pigs! On the negative side, some schools have lost crops through vandalism or theft. We may need to help with financing fencing. However, all in all, the results have been spectacular. The community is taking ownership, so that these are becoming 'community farms', not just school farms.
David observed that it makes sense for us to support the women gardeners of HAGA- some 400 strong now.  Their work could well lead to the setting up of a cooperative and, with some external funding, some sustainable businesses.
Derek commented that when he first saw Hastings SL some 20 years ago, he hoped that our combined efforts would one day lead to such change.
Health Report. For Christine's full report, please click here: AGM Health Report 2021. Alice has suggested further possible improvements, but Christine has advised her that the Link has other commitments, too.
Richard showed some pictures of the developments at the Health Centre – building the triage & isolation units. In fact, the roof is already on.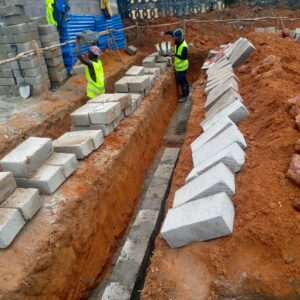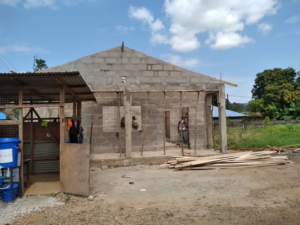 Sanitation. Richard reminded us that the 2019 WASH survey of our 13 schools revealed the huge need. Even if we break it down into (a) water and hygiene facilities and (b) sanitation (toilets) and waste, each aspect will require major funding. In our experience, a pump, water tower and tank for one school would cost towards £2k. If a borehole is needed in an outlying school, that could add £8k. We intend to resume  work on the project in 2022.
Membership. Membership fees are a very useful part of the Link's income. They have remained at £5 a year since 2003, so the Trustees have decided to raise them to £ 10 for an individual membership, £20 for a family. Jacqui Homewood has kindly agreed to take on the role of Membership Secretary. The Trustees would like to thank those who have already renewed. For the moment, the easiest way to renew membership is on-line via the Support & Donate section Link's website.
Fundraising. (a) Crowdfunding. Robin reported that he and David are looking into how to run a crowdfunding campaign. Thanks to the donations from Kiley's Karpets, St Helen's Church (Hastings) and the Church of the Good Shepherd (Romford) we have been able to get on with starting on Phase 2 of the triage & isolation units this side of Christmas. We'll launch a crowdfunding campaign specifically for the Sanitation Project early in 2022. Its success will entirely depend on our members using their own contacts, social media etc to spread the word.
The On-line Auction. Roger is again masterminding an on-line auction – last year's was very successful. Everyone is asked to email Roger (avvk28@dsl.pipex.com) with offers of an item for auction, together with a photo if possible and an idea of its value. If you have a contact with a retail shop or in the business world, perhaps you could get them to provide an item or a voucher for a service. Offers should be in by November 5th. Robin will complete the on-line catalogue, and the auction will go 'live' on November 13th and close to bidding on November 24th.
(b) Events.  We cannot tell when we can resume our usual fundraising events like the Big Quiz, a wine-tasting or a music quiz, so it is all the more important to support the on-line auction. and the orange quiz sheet when it comes out (by mid-November).
Election of Officers. As there had been no new offers to take on executive posts, and since the present holders are willing to continue, Michael proposed that the present executive committee be voted back in en bloc. Edwin seconded the motion, which was carried nem con. Robin notes that this includes Jacqui as Membership Secretary, since she took over from Bill earlier in the year; and that David was co-opted onto the Trustees to lead on our Livelihoods strategy.
 AOB.   – Nola reported that Jempsons has  a charitable foundation for charities helping the local community. We would have to make the case that our work with schools in this area is indeed of great benefit to local children.                                    – Roger suggested the 'virtual community celebration' film would be very useful in our approaches to local businesses for sponsorship. There will b e two versions: a one-minute version for when we need to make a quick impact, and a 20-minute version  for use in schools. The film should be ready by Christmas.                                                                                          – Derek suggested that firms could be asked to sponsor a specific element of the Sanitation Project –  a particular school, for example.
Date of next OGM. No decision was made. We'll let members know.