Schools Update 11th October 2020
Isabel Hodger – Schools Coordinator
We are very pleased to report that recorded cases of Covid 19 in Sierra Leone are still very low. The schools have started again today (11th October 2020) so we keep our fingers crossed that they can return to learning safely. Currently, our friends in Hastings, Jui and the surrounding area are unaware of any cases locally.
The British Council in Sierra Leone have been able to start their face to face teacher training courses again so our teachers can continue with their professional development opportunities.
We feel for the pupils that have gone through another lock down after the Ebola lockdown in 2014-16. Any students in upper primary and secondary year groups could have missed out on as much as a year of school.
On a more positive note, the end of primary exams (equivalent to our KS2 SATS) took place as normal back in August, and one of the pupils in Jui Upper Primary School got top marks in the whole country with a 90% pass rate! We are so proud of all the pupils and teachers for achieving such good results.
Here is the proud Jeremiah Conteh in his ceremonial uniform.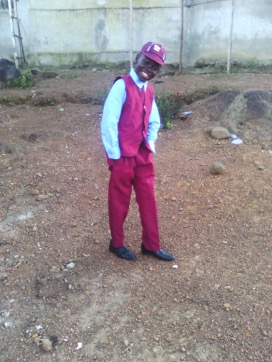 Edest also did well. Esther Tommy reported that the top score was 309 marks. All 35 children passed and got into their chosen secondary school.
We continue to get photos and reports of the enormously successful Seeds Challenge, and can't thank Battle Horticultural Society enough for their generous contribution of £200 for seeds earlier in the year. Sadly REC Hastings were unable to harvest their crops. Here is what Tessa Courtney Bennett from Sacred Heart reported.
"The seeds they sowed were all pulled up because the school land they were using was given away by the council. She says they will start again in October though so hopefully have some news soon!"
Our schools continue to keep in touch with their colleagues in their partner schools and we get regular updates on their lives through What's App.
Tessa Courtney Bennett from Sacred Heart says "We read a story from Benin called 'The Treasure at the Rainbow's End' and looked at Nigerian artist Tola Wewe to create these West African artworks! Hope you like them!"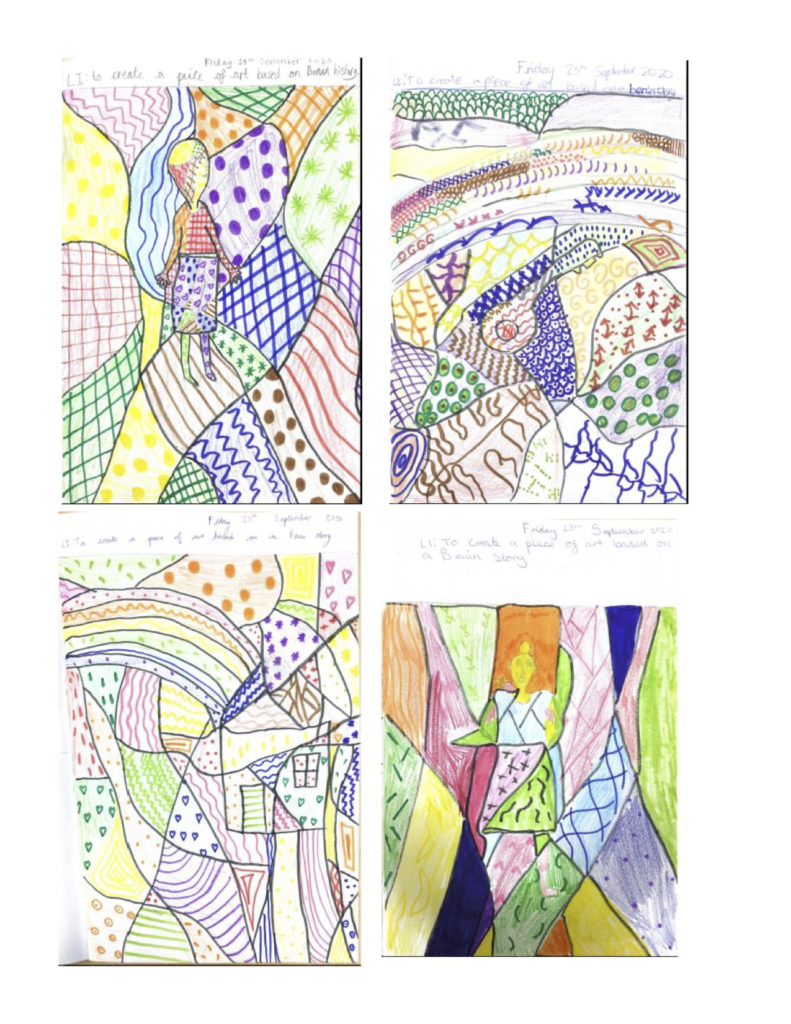 I would like to finish by saying that at the moment our teachers are working so hard to make sure that our children get a good education and catch up on what they missed during lockdown. The special arrangements that have to be put in place make their work doubly hard, and every day they put themselves at risk for the sake of their school. It is highly stressful, but they keep going, and they are doing a truly wonderful job. My heartfelt thanks go to all of the staff in all our schools.