We had a good AGM on Sat 24th March. No new faces on the Executive, so you're stuck with the old gang. Never mind – we had a good meeting, with 8 of our friends from the London Association coming down. After a nice lunch put together by Christine, Lynn, Nola and Martin, we heard a range of reports on the Link's work of the past year: Richard's Chairperson's Report AGM 2018 Chairman's Report, Isabel's Schools Report Education report to AGM Mar 18 which she presented with along with photos of the February trip, and Christine's Health Group Report, also illustrated Health report for AGM Mar 18. We also had a presentation by Yvonne, showing how the Link and CoGS money was spent to help the mudslide victims Yvonne's Report. Here are the minutes of the meeting, and a group photo of a very happy event.
Hastings Sierra Leone Friendship Link
Minutes of the AGM 2018 held at St Helen's Church 24.03.2018
Present: Martin Copland, Richard Homewood (chair), Robin Gray (minutes), Bill Evans, Derek Tomblin, Isabel Hodger & Roger Mitchell, Christine Boulton-Lane, Eileen Evans, Asif Khan, Richard Lane, Nola McSweeney, Margaret Mitchell, Richard White, Lynn White, Tom Collins, Paul Cabban, Edwin Rew, Tunde Rahman, Edwin Jarrett, Emmanuel Olu Palmer, Rev. Rene Jarrett, Cecilia Daniel, Patricia D Smith, Liz MacKay, Yvonne Johnson, Yvette John.
Apologies for absence: Received from Peter Penfold, Ray Keene, Eve Martin, Jacqui Homewood. Peter sent greetings and best wishes to the Link.
Minutes of the AGM of 15th June 2017: The minutes were accepted, with no matters arising that would not be covered by today's agenda.
Treasurer's Report: Martin present the accounts for the calendar year 2017. Income included an amazing £8482 raised by Dain Jensen; over £3,600 raised by our own fundraising events; and other donations. Outgoings included £4,724 on the Health Centre and £4,000 on aid related to the Freetown mudslide. The Link is well placed to provide funding for repairs and maintenance at the Health Centre, and to start on the schools sanitation project at the appropriate time.
Chairman's Report: Richard noted that Hastings Sierra Leone 2007 has at last been included in a new twin towns sign on the A259. Discussions on the management of the Twin Town Centre are continuing, with the SL Hastings Association (UK branch) working hard to resolve the problems. Richard stressed that whatever projects we provide funding for must be sustainable and not need constant propping up. He thanked the members of the Schools and Health Working Groups for all that they do, and everyone for their fundraising efforts, with the meeting expressing its particular thanks to Dain Jensen and his friends for their amazing achievements.
Schools Report: Isabel showed photos taken on the February trip, including a Beckley School/ Baird Academy 'Superheroes' project to encourage children to wash their hands, and a Kankaylay/ Christ Church project on 'Junk for Art'. We saw a sports event organised by Jenna and Chloe; and Braidie and Suzi dressed in Sierra Leonean clothes. The maths workshop at the TTC was attended by some 40 teachers (up from 23 last year), not all from our partner schools. Roger spoke of the second leg of the exchange. We know the names of five SL teachers whom we will be inviting to come to Hastings in June, and there will possibly be a sixth. The Mayor will issue official invitations, which should help visa applications to go smoothly. The programme may well include a maths workshop, and Roger is looking into how one might teach a science curriculum with minimal resources. Isabel noted the importance of embedding the new ideas into classroom teaching, and of getting feedback. The Ark Blacklands Academy has a new link teacher: Nicola Bartlett hopes to join in the exchange next year. Roger was not able to answer Tom's question as to why Little Ridge had dropped out of the scheme: communications have broken down.
(a) Health Group Report: Christine thanked her committee – John Geater, Liz MacKay, Chris Chinery, Edwin Rew, Derek Tomblin, Melanie Southwood and Ray Keene – for their sterling work. She praised the work of both paid staff and volunteers at the Health Centre, who work in difficult conditions – see Annexe C for details of the repairs and maintenance needed. Edwin Jarrett said he understood that German engineers had repaired the reservoir which now fed the whole village. Christine will check.
(b) Yvonne's Report.  Yvonne brought messages of thanks from those affected by the mudslide to the Link and the Church of the Good Shepherd, Collier Row. She gave a presentation of photos from the trip, concentrating on the way Link and CoGS money was being spent. She praised the work done by Lori Spraggs and Build on Books. She reported that survivors were slowly rebuilding their lives, though many are traumatised. Money has been given – for the purchase of builder's tools, for example – to enable people who had lost everything to start to earn a living again. Yvonne praised the work at the Don Bosco centre, a Catholic charity working with street children, mudslide victims and orphans. They are feeding 300 victims a day, and managing to reunite families. She also visited, and was impressed by, the Regent orphanage and Kanigo School. Medical supplies left over from an American medical mission were handed over to the Grafton health centre.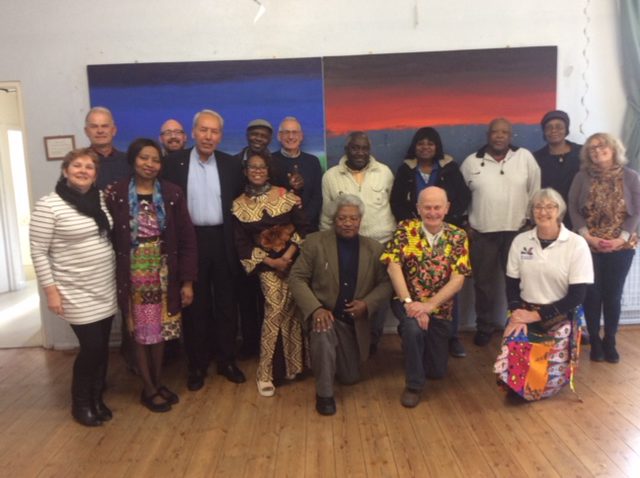 (c) The Twin Town Centre:  There was a discussion on the situation with the TTC. Emmanuel Olu Palmer reported that the work on the fire exit has not been well done. He is going back again to SL in April for 3 weeks and will make sure it is finished correctly. He will report back. We were told that a new committee is being formed under the chairmanship of Frederick Coker, to move things forward. Christine was saddened that the library and after-school club no longer functioned. Derek understood that money is being collected in the form of hire-charges, and that the watchman post has been set up. Christine hoped that the new team would include the Headman, and that it would have plans for what it wants to achieve. Richard pointed out that the Link has funds available but they are conditional on our knowing exactly how they would be used.
Membership Report. Bill has sent out reminders to all existing members that subscriptions (£5) are now due. Bill's postal address: 15 Vicarage Road, Hastings TN34 3LZ
General Data Protection Regulation. Robin will be in touch with both members and the wider group of Link supporters, to make sure that the way we hold contact details is compliant with GDPR. Everyone will have to be told exactly what personal data we hold and how we use it, and will have to give their explicit agreement.
Election of Officers. Since there were no nominations, and since existing officers were willing to continue in post, the present Executive was re-elected nem con – Chair: Richard Homewood, Vice-chair : Derek Tomblin, Treasurer: Martin Copland, Membership Secretary: Bill Evans, Secretary: Robin Gray. [For the record, the other Trustees are Roger Mitchell & Isabel Hodger (Schools Liaison), Christine Boulton-Lane (Chair of Health Group), Lynn White and Peter Pragnell.]
Any Other Business
(a) Support from Hastings Borough Council. The meeting queried why there were no Councillors at the AGM. Robin said that a notification of the AGM had appeared in the Observer, but undertook to be more careful in future to invite Councillors to attend our events.
(b) Corporate sponsorship. Richard is working on trying to interest the appropriate major  local businesses in sponsoring the Link: firms with a connection with water and sanitation,  for example, or with Hastings in their name.
Date of next Ordinary General Meeting: 31st May at 6.15 at St Helen's Church.