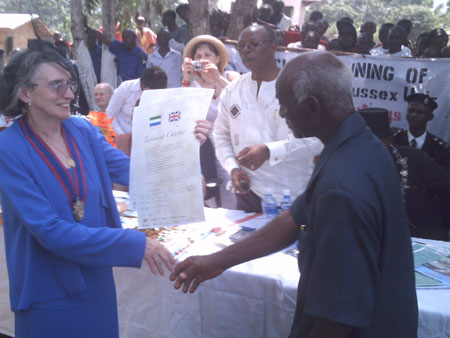 On 14th February 2007, the leaders of the community in Hastings SL and the leaders of the community in Hastings UK sign a twinning charter. Deputy Mayor Eve Martin represented Cllr Maureen Charlesworth, and was accompanied by Leader of the Council Peter Pragnell, Leader of the Labour group Jeremy Birch, and Michael Foster, Member of Parliament for Hastings & Rye.
The charter emphasis the two-way nature of the relationship – perhaps initially we will need to focus on Hastings SL's physical needs, but in the long term we have so much to learn from each other.
Funded by the CLGF, a body supported by central government, a senior councillor and two officers are going to SL in March 2010 to discuss the possibility of Hastings UK organising a UK Government-sponsored project to improve some aspect of local government. It sounds a bit dry, but we're hoping they will come up with an idea to improve the quality of life for people in the Hastings SL area. Members of the Hastings SL Friendship Link will go out at the same time, and the Community Resource Building will be officially opened – even though it isn't totally finished. We feel it is important that the residents should start to get as much use from the building as possible, and as soon as possible.