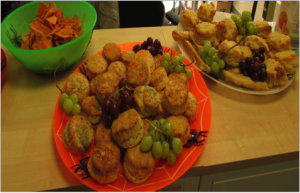 Jo Avery and her friends have raised an astonishing £345 for the Link (plus £86.25 in Gift Aid, which shows how important Gift Aid is!). Jo writes on the Ashdown House internal website:
Staff at Hastings had a brie-lliant time, at the 2nd staging of the Cheese Fest. This saw staff supply and sample all sorts of cheese related fare. Just some on offer this year were;- Cambozola, Wensleydale with Cranberries, and specialist Sussex cheeses, a variety of homemade cheese scones and straws, cheese crisps, chutneys and accompanying savoury biscuits. A new attraction for 2015 was 'guess the cheesy grin' from photos of the Permanent Secretary, Director Generals in amongst celebrities.
There was a raffle of cheese related goods, including support from local businesses, from the Electric Palace Cinema and Penbuckles (cheese tasting session for two with glass of wine), and in total £345 was raised for the Hastings Sierra Leone Friendship link. This charity connects the people of Hastings UK and Hastings Sierra Leone to promote reconstruction and friendship. It raises money through events and donations to help build Hastings Sierra Leone following its devastation in 1997 during the Sierra Leonean civil war. The link also promotes official twinning, informal exchanges and school to school links. http://www.hastingshastings.org.uk/
We're very grateful to Jo and her helpers – and very impressed by their ingenuity. If anyone fancies doing something at work on behalf of the Link, we can provide leaflets so that people know exactly what it is they're supporting.