This year's theme is the Animal Kingdom – birds, mammals, insects etc. Hours of fun, and you'll be doing a very good deed, too.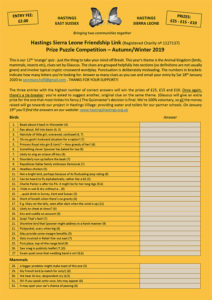 Please use the button to buy your copy of the Orange sheet for 2019 online at a cost of just £2. You can use a Paypal account or credit/debit card.
You can download the sheet as a fillable PDF form, and then email your completed form to secretary.hslfl@gmail.com by 18 January 2020. Good luck!
All the funds we raise with the sheet will go towards our current project: providing a water supply, and eventually simple toilets, for the schools in and around Hastings Sierra Leone.