Here is Richard's account of their amazing jump to raise funds to fight Ebola in Hastings SL. (If you didn't get around to sponsoring them, there's still time!)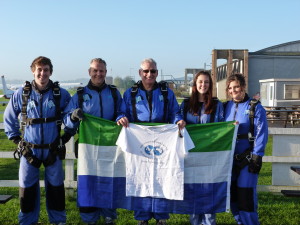 Well we finally did it! Fifth time lucky for the five of us (Richard Homewood, Matt and Hollie Lockwood and Richard and Ellen White), but only after a bit of last minute forecast watching and date swapping. Saturday was forecast as a washout so we managed to get a Sunday slot and set off in the wind and rain at 5am not sure if we would jump. As the journey went on the rain stopped and as daylight approached we started to drive into fog! Not looking good especially when just before we arrived we got a text to say don't come till 11am because it is too foggy! Undaunted we arrived just before 8.00am to see the airfield shrouded in mist and fog. It did seem to be clearing though and confidence was growing. In anticipation of a long wait we ordered breakfast and then just as it arrived at the table we were called to get kitted up! Typical! Breakfast had to go as we were not going to miss the opportunity. We kitted up and after a refresh of what to do we headed for the plane in nervous anticipation. Everyone was laughing and joking and full of confidence as we climbed higher and higher, until the door opened that was! Watching the first two being shuffled to the door and hung out as the camera man swung from the wing the laughter turned to a grimace as it was my turn to be pushed forward. Then that was it we were out but once we stopped rolling the sensation of hurtling to the earth at over 130mph was incredible, the view was unbelievable and shaking hands with the cameraman in free fall was bizarre.
Then after 5,000ft we jerked upward (or actually slowed down rapidly) as the parachute opened and things calmed dramatically and we gently dropped to earth soaking up the view and chatting. Then it was time to prepare for the landing and discussion about leaving legs in holes if we didn't get it right! A quick rehearsal and then all too suddenly we hit the ground, sliding in gently thankfully onto some pretty soft grass, adrenalin pumping and cheers and shouts as we congratulated each other. An amazing experience and one I would repeat, but more importantly we had overcome our fears for the sake of the charity and the people we want to help in Sierra Leone where they are now suffering the ravages of Ebola directly in addition to their daily struggle. And that is where you come in and we are all extremely grateful for your generosity and support for the cause. We expect that we will have raised over £2,000 in total once it is all collected, but there is still time to donate if you or your friends want to. In case there is any doubt we have all paid for our own jump and all of our other expenses out of our own pockets, so every penny of the money generously donated will go directly to the charity and to the community in Hastings, Sierra Leone, and make a difference.
Thank you once again for your generosity.  Please check on the website at www.hastingshastings.org.uk <https://www.hastingshastings.org.uk>  for updates on our work with our friends in our twin town Hastings, Sierra Leone.

Richard Homewood, Richard White, Ellen White, Hollie Lockwood, Matt Lockwood